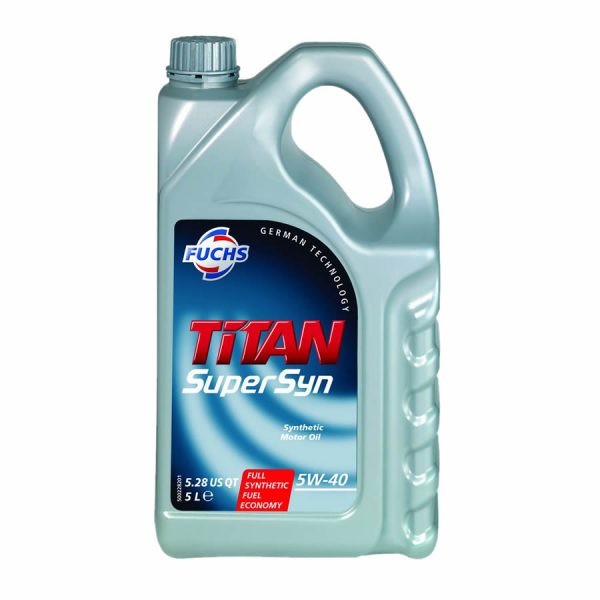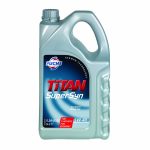 Fuchs Titan Supersyn 5W40 5 Litres
£23.70
Titan Supersyn 5W40 1 x 5 litre bottle.
Description
Additional information
Specification and Approvals
Description
Fuchs Titan Supersyn 5W40 Fully Synthetic Engine Oil
Ultra High Performance, fuel-economy oil for a variety of vehicles with or without extended service intervals. Good cold starting and lower oil consumption.
TITAN SUPERSYN 5W-40 represents the multi-functional engine oil of the TITAN SUPERSYN engine oil range. It is based on innovative engine oil technology. The modern and reliable additive technology secures best performance at all running conditions. This up to date Ultra High Performance Engine Oil can be used all over the year. The good cold flow properties of TITAN SUPERSYN 5W-40 are ensuring fastest lubrication at all parts of the engine. TITAN SUPERSYN 5W-40 guaranties engine durability and improved oil pressure under city cycle mode as well as under top speed high running conditions.
Titan Supersyn 5W40 is available in 1 and 5 litre bottles.
---
The right high-tech engine oil for every engine!
TITAN engine oils are the result of the latest research and development by the world's largest independent lubricant specialist.
Developed together with leading automobile manufacturers, tailored to satisfy the demands of today's high-tech engines, offering outstanding high-performance, fuel-economy and wear protection.
TITAN engine oils: Premium quality from the German automobile industry's leading lubricant OEM.
Manufactured in the EU.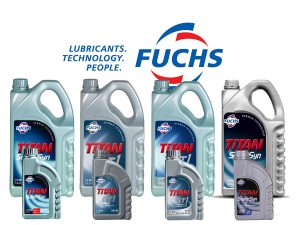 Additional information
| | |
| --- | --- |
| Weight | 5 kg |
| ACEA | A3/B4 |
| Brand | Fuchs |
| Product | Engine Oil |
| Viscosity | 5W40 |
| API | SM, SN |
Specifications
ACEA A3 / B4; API SN / SM
Approvals
MB 229.3
PORSCHE A40
RENAULT RN0700 / RN0710
VW 502 00 / 505 00
FUCHS Recommendations
API CF
BMW LONGLIFE-98
FIAT 9.55535-H2 / M2 / N2 / Z2
GM-LL-A-025 / GM-LL-B-025