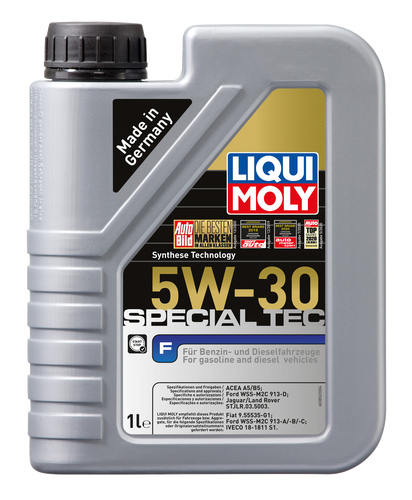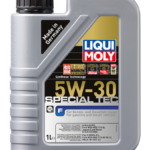 Liqui Moly SPECIAL TEC F 5W-30
£9.45 – £36.99
Low-friction motor oil based on synthetic technology. Reliably prevents the formation of deposits, has extremely high shear stability, reduces frictional losses in the engine and provides outstanding protection against wear. Ideal for modern gasoline and diesel engines with and without multi-valve technology, Valvetronic and turbocharging (with or without diesel
particulate filter (DPF) and charge air cooling). Especially suitable where there are long intervals between oil changes and heavy duty engine requirements
Properties
– optimum stability to aging
– high lubrication reliability
– instant lubrication after cold start
– tested for turbochargers and catalytic converters
– high engine cleanliness
– saves fuel and reduces pollutant emissions
– high shear stability
Sold In 1 and 5 Litre bottles.
Description
Additional information
SPECIFICATIONS/APPROVALS
Description
Liqui Moly SPECIAL TEC F 5W-30
Low-friction motor oil based on synthetic technology. Reliably prevents the formation of deposits, has extremely high shear stability, reduces frictional losses in the engine and provides outstanding protection against wear. Ideal for modern gasoline and diesel engines with and without multi-valve technology, Valvetronic and turbocharging (with or without diesel
particulate filter (DPF) and charge air cooling). Especially suitable where there are long intervals between oil changes and heavy duty engine requirements
Properties
– optimum stability to aging
– high lubrication reliability
– instant lubrication after cold start
– tested for turbochargers and catalytic converters
– high engine cleanliness
– saves fuel and reduces pollutant emissions
– high shear stability
Areas of application
The latest specification from Ford (WSS-M2C 913-D) is primarily required for various vehicle types from 2011. Backwards compatible and can be used without hesitation in older Ford vehicles from 7/1998. Also suitable for vehicles from various other manufacturers. Tested for use with turbochargers and catalytic converters.
Not suitable for VW with extended maintenance intervals (WIV)!
Sold In 1 and 5 Litre bottles.
---
Additives are vitamins for your car.
It won't work without them. They ensure cleaning and corrosion protection, for stable lubrication and temperature resistance. Even simple mineral motor oils, which no longer come close to meeting the requirements of today's motors, are up to 15% additives. Modern oils, such as fully synthetic motor oils, are even up to 30%.
What you may not already know is every time you fuel your car, you add additives. For modern fuels are packed with additives, in order to increase the knock resistance of petrol, for example, or to make diesel less sensitive to below zero temperatures.
With LIQUI MOLY additives you protect your motor, reduce your fuel consumption and save cash. Our oil additives clean the motor from the inside, minimise friction and wear, reduce oil consumption and protect against corrosion. They are suitable for both petrol and diesel motors and help to recreate the original performance of your vehicle motor.
Our fuel additives for petrol and diesel keep the entire fuel system clean and guarantee optimum combustion and compression.
All of our additives have a common benefit: They help to clean and care for the entire motor and fuel system. And they help increase the life span of the motor and reduce fuel consumption. This means the use of additives not only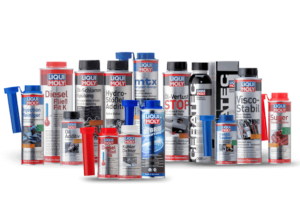 Additional information
| | |
| --- | --- |
| Weight | N/A |
| Brand | Liqui Moly |
| Product | Engine Oil |
| Viscosity | 5W30 |
| Size | 1 x 1 Litre, 1 x 5 Litre |
Specifications and approvals:
ACEA A5 ∙ ACEA B5 ∙ Ford WSS-M2C 913-D ∙ Jaguar
/ Land Rover STJLR.03.5003
LIQUI MOLY also recommends this product for vehicles or assemblies for which the following specifications or original part numbers are required:
Fiat 9.55535-G1 ∙ Ford WSS-M2C 913-A ∙ Ford WSSM2C 913-B ∙ Ford WSS-M2C 913-C ∙ IVECO 18-1811 S1